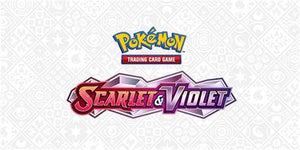 Set out for a journey in the Paldea region! Meet first partners Sprigatito, Fuecoco, and Quaxly, and explore the power of the Legendary Pokémon Koraidon and Miraidon as Pokémon ex. Other Pokémon ex evolve their way into battle—including Arcanine and Gyarados with a dazzling new look. Even more Pokémon appear as illustration rare cards with amazing artwork—discover them all in the Pokémon TCG: Scarlet & Violet expansion! Entry for the event will be $28 Use link below for pre registration: https://forms.gle/uS97sgWK8KrBCmTR9
---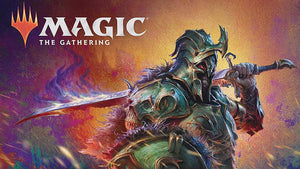 MTG Modern Win-a-Box Tournament Saturday, July 30th 2022 @ 1:00pm Entry Fee: $30 Join us on for our end of the month Modern tournament! Come in and battle it out against the best decks in NOVA for the chance to win a Set Booster of Modern Horizons 2. Players will play through 4-5 rounds of swiss, after which the top 8 players will face off in single elimination for the grand prize. For this event, we will have a minimum threshold of 12 players, and will be capping the event at 32 players. Prizes: 1st place: Set booster of Modern Horizons...
---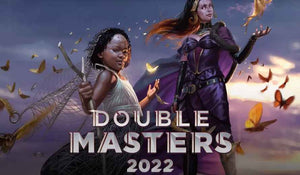 Magic the Gathering: Double Masters Draft  Friday, July 15thth @ 7pm. Entry Fee: $50 Join us on as we celebrate the release of the Double Masters!  Format: Draft - Prizes: Booster packs to top finishers 
---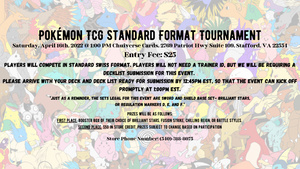 Please join us on Saturday, April 16th, 2022 @ 1:00 PM! Players will compete in Standard Swiss Format. Players will not need a trainer ID, but we will be requiring a deck list submission for this event. Please arrive with your deck and deck list ready for submission by 12:45PM EST, so that the event can kick off promptly at 1:00PM EST.